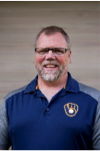 Sue and I had the privilege of spending our vacation the last week and a half in Alaska. We got to see many of God's wonders and works firsthand. From an evening watching the Aroura Borealis light the sky, to moose, bear, reindeer, eagles, whales, salmon spawning, mountains, rainforest, sled dogs, glaciers calving, and so much more. We also had the honor of hearing the stories of some of the indigenous people of Alaska. Every time one of them introduced themselves they started with their name, and their parents and what their occupation or social status was, and then spoke of their grandparents to show
honor and respect to their family heritage.
If I were asked to introduce myself, depending on the situation I was in, I may say Hi, I'm Tim or Tim Diestler, Facility Director at Hortonville Schools, or Tim, Sue's husband or Matt and Holly's dad, or so on. But this is how I would tell you who I am to let you know where I came from.
Hello, my name is Tim, my parents are Hank and Joanne Diestler. My mom was a homemaker and my dad retired from a paper mill after 42 years. My Grandparents were Franklin and Lula Diestler, a homemaker and paper mill worker, and Myron, who built farm machinery and Nelda Leitzke a homemaker and factory worker (after Grandpa's early passing).
Because of their great love for me and what they sacrificed over their lifetimes, I had so many opportunities that they never had. I could never thank them enough. So, after hearing the Alaskan natives talk, it makes perfect sense to honor your past instead of making your greeting about you.
We have another heritage, a greater one. One I should use every time I introduce myself; it should go like this. I am Tim, Son of the King. After reading the end of Revelations 20:11- 22:7, if you have confessed your sins and believe Jesus is the son of God, and He died to save you, your name will be written in The Book of Life. You will be there in the New Heaven. And as it says in Revelation 22:4 you will see His face. I look forward to the day I get to see my Father's face and be with him forever and ever.
If you do not have this assurance, I ask you to seek out and talk with Pastor Greg, one of the elders, or any of the members of our body, before time runs out. If you are a believer and in God's family don't wait to tell your family, friends, neighbors, co-workers, or anyone you meet. Give them the joy of being able to say I am a Son – Daughter of the King.
In Christ, Tim