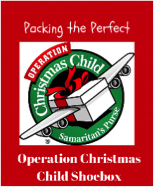 In October & November our missions collection will be Operation Christmas Child.
OCC, as many of you know, is a ministry of Samaritans Purse. OCC has been collecting shoe boxes filled with gifts and distributing them to children in need around the world for 25 years. Each child receives a booklet about Jesus in their box and also has the opportunity to participate in a follow up discipleship program call "The Greatest Journey."
How to pack a shoe box:
1. Get a shoe box. You may use a standard size shoe box or there are new cardboard and plastic boxes available online. (samaritianspurse.org/OCC)
2. Choose whether your box is for a boy or a girl and choose their age range.
3. Every box needs a WOW item; examples are a doll, stuffed animal or a soccer ball w/pump.
4. Add other gifts; toys, hygiene items, school supplies, etc.
5. Pray for the child you have chosen. Include a personal letter or a picture if you like.
6. Include a $9.00 donation for shipping. If you make the donation online you may "Follow Your Box" and discover its destination.
7. Bring your box to church ad place it under the OCC table in the foyer by November 17.
8. Please do not include: candy, toothpaste, gum, used items, war related items, seeds, food, liquids or lotions, medications or vitamins, breakable items, glass containers or aerosol cans.
Please have fun!!!
Remember that you are giving a child a chance to get to know Jesus.
Let's try to break last year's record of 106 boxes.