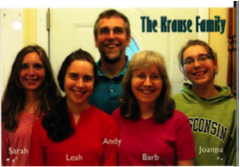 The Krause family works with ReachGlobal in the Asia Division.
From Andy Krause:
We are seeking to glorify God by multiplying transformational churches in a number of places across Asia. Here are some praises and praises and prayer points for each place and for our family.
Praise points:
We are thankful for the special times we had with Barb's Dad and Mom in August. Dad has decided to pursue immuno-therapy treatment. Pray with us that this will fight off and extend the quality of life for him. Barb and I will be with them again this month.
Praise God for the good strategic planning meeting for our East Asia Partnership Team. We are seeing God's hand lead us as we transition from a residential city team that was focused just on a single city in East Asia to now being a regionally focused team that will invest in multiplying disciples and churches by coming alongside specific partners across the entire East Asia region.
Prayer Points:
Indonesia
· Ask God to lead as Jon (ReachGlobal Asia co-worker) and I interact with leaders from our SEA Team in Indonesia and the Philippines.
· Pray that Jon and I can be an encouragement to the church planters. Ministry for them can be lonely and challenging.
· Pray for good meetings with another of our Indonesian partners. Ask God to lead as we work on improving communication between them and USA churches who are supporting them.
Taiwan
· Keep praying for the new initiative in Taiwan that is developing.
· Ask God to show us where and how He would want us to engage in church planting in Taiwan.
· Pray for long-term workers to be raised up from our EFC churches and sent to Taiwan.
Manila
· Pray for Jon and my time with SEA Team leaders who are focused on church planting among Ms in the Philippines. Ask God to clarify how the SEA team members will engage in both a local strategy (in Indonesia and the Philippines) but also work together to serve one another across the SE Asia region.
· Pray for my time with Noel and Jing – two Filipinos, who Lord willing, will join the SEA team to help us come alongside church planters in Southern Thailand serving among the M community
· Pray for my time with the ReachGlobal Manila City team. Manila has the most densely populated population of any city in the world.
Home Front
Pray for continued strength and healing Barb, Leah, and Joanna
Pray for God's protection and care for our family during my travels.
Thanks for praying!
Andy Krause